News blog
Increase in the number of cases reported in Hong Kong SAR
March 20, 2020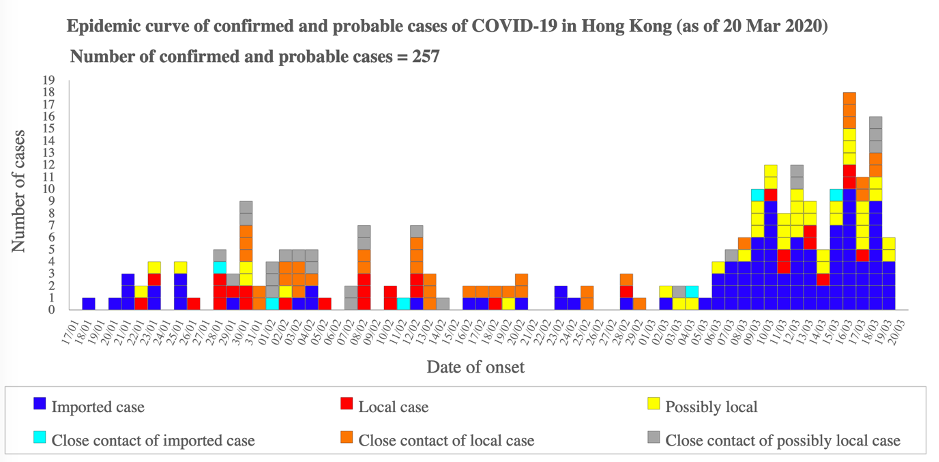 Source: Latest situation of cases of COVID-19 (as of 4pm of 20 March, 2020), CHP, https://www.chp.gov.hk/files/pdf/local_situation_covid19_en.pdf
Since the beginning of March, more than 150 cases have been reported in Hong Kong SAR, with the highest increase reported on March 20. The sudden growth in cases reported has occurred since March 6, 2020, after two weeks of a decline in number of cases reported.
The new cases are mainly imported, following the return of a large number of Hongkongers from overseas, while few of the possibly local cases reported travel to other countries. This is a critical time for Hong Kong, as people are coming back from developed regions struggling to contain the outbreak, such as the US and EU countries which have reported more than 110,000 cases in total as of March 19.
Hong Kong was one of the three places that managed to control the outbreak, with Taiwan and Singapore, but all reported a sudden increase in the number of cases recently. The study of the new cases reported in Hong Kong showed that the effective reproduction number was already higher than 1, independently of considering possibly local cases as imported or local, implying a risk of outbreak in the community.
There has been a relaxation in the personal measures in the community inducing more possibilities of transmission. An HKU telephone survey showed that, although the proportion of respondents reporting the use of masks increased, less of them reported avoiding crowded places.
At the press conference on March 20, Professor Gabriel Leung, dean of the Faculty of Medicine at HKU, said that this was not the time to lower our vigilance. A similar situation in South Korea was reported, were imported infections leaded to several local clusters. It is therefore important to remember several rules at the community level such as social distancing, protecting older adults and foreign domestic helpers, and adopt measures of home quarantine when coming back from overseas.
Here are some news articles discussing this issue in English:
South China Morning Post - Coronavirus: Hong Kong records 48 new cases in biggest daily jump yet as experts warn about imported infections
Stand News – HKU Conference of March 20, 2020
TIME - Hong Kong Records Its Biggest Rise in Coronavirus Cases as New Wave of Infections Crashes Into Asia
Here are some news articles discussing this issue in Chinese:
明報 - 梁卓偉:患者可傳染多於一人 顯示本港或將有大型社區爆發
頭條日報 - 料本地疫情將大爆發 梁卓偉:勿放鬆否則白費努力
Back
---
©2020 - Coronavirus disease (COVID-19) - School of Public Health, The University of Hong Kong. All rights reserved.